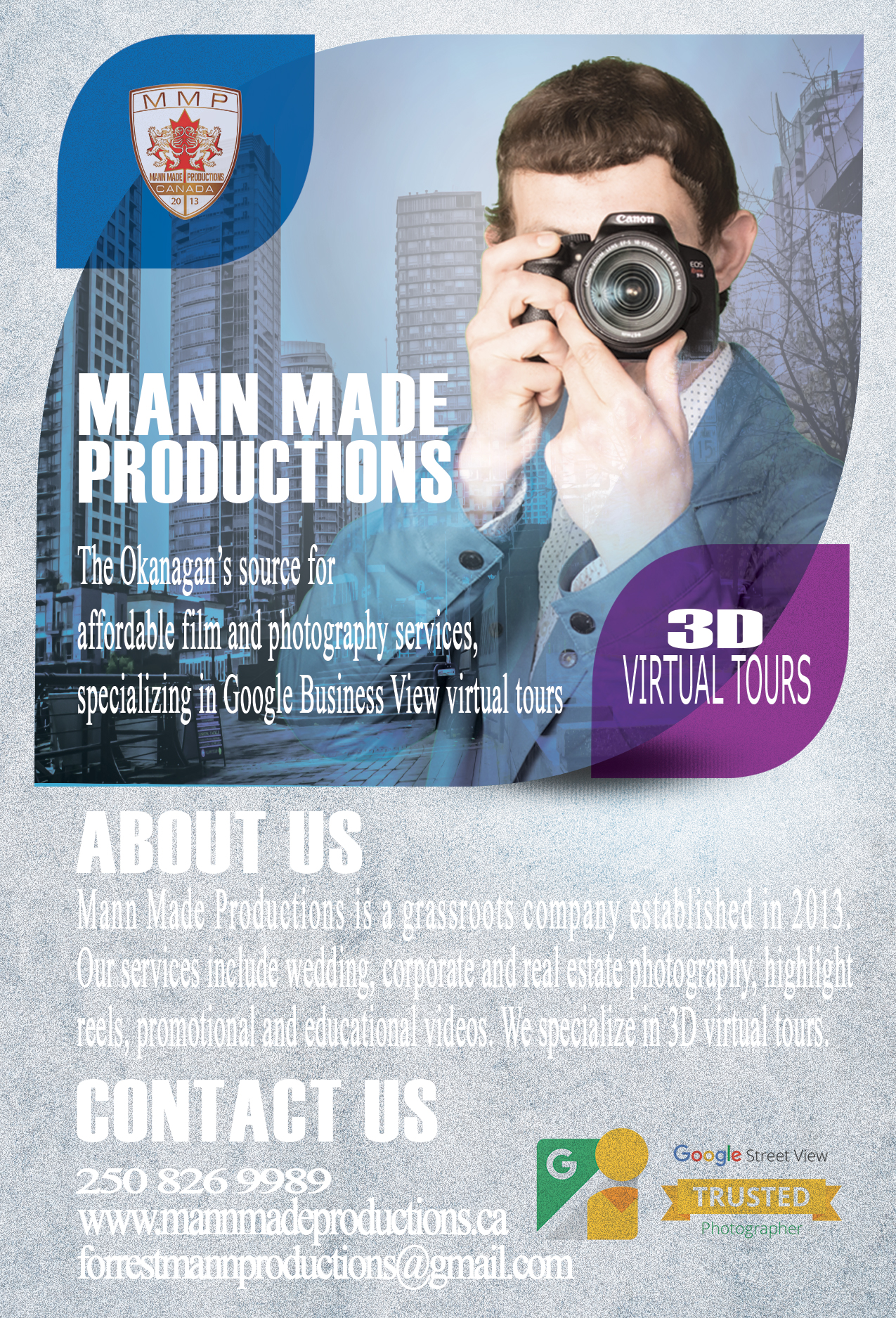 Reviews
Brian Fry said:
Want it Done Right? Call Mann Made Productions

As Chief Marketing Officer for RackForce I worked with Mann Made Productions on many occasions for video, photography and other marketing services. Forrest and his partners are hard working, creative and they will produce a great product for you.

Brian Fry
Head of Business Development

O: 250-448-2226
Tim Dufour said:
Forrest Mann has been working for RackForce in facilities management for several years and has demonstrated an excellent work ethic.  Forrest is very punctual and when asked he always takes on extra tasks without hesitation.

However, Forrest has another very useful skill set; video editing and production.  He has produced a number of short videos for RackForce; he has the ability to accurately assess the corporate requirement, structure the content, organize the required personnel, professionally shoot the video and ultimately edit the scenes in order to provide a great video product.  I highly recommend Forrest Mann if you require any sort of video production.

Tim Dufour

CEO – RackForce Networks Inc.
  Sherry Myers said:
We are so happy that Forrest Mann was available to be the professional photographer at our daughters wedding last June.  His expertise made her photo gallery so amazing.  Forrest's perspective is very unique and makes each wedding album perfect for each individual bride.

Also we were able to have Forrest work on a short film we entered into a competition.  Again his expertise, uniqueness and efficiency was amazing and brought us great results.

Not only is Forrest very talented, he is also a great guy; very kind, respectful and funny.

We would recommend Forrest to everyone who wants an efficient, professional and unique result in their  film or photography project.

Sincerely,

Sherry Myers
Moksha Yoga said:
We were really impressed with the professionalism and easeful nature of Forrest. He worked efficiently and produced a excellent final product.

Thanks again for the tour!
Tourism Kelowna said:
Forrest with Mann Made Productions was fantastic when taking 360 photos for our Google Listing. The process was quick and easy and our photos were uploaded to google in no-time! Forrest also had an eye for the perfect placement of his camera. He was helpful in recommending anything that may need to be moved to take a good photo. When we need updated photos we would definitely be happy to work with Forrest once again.

Chris
FH&P Lawyers said:
Forrest arranged to shoot the See Inside tour of our business very quickly and the results look great!

Clay B Williams
UME Foods said:
Forrest from Man Made Productions was wonderful to work with for our Google Business Tour. He was punctual, friendly, efficient, and had our awesome looking tour uploaded right away! The Tour was very valuable for our customers to know we are more than just a typical Japanese restaurant. If you're considering it, we definitely recommend Forrest as he was such a pleasure to work with.

Dean
Jake Bregolisse said:
Forrest at Mann Made Productions was quick to get me out of a bind when I need quality photos done in an extremely short amount of time for a property listing.  The photos turned out great and I could not be happier.  Attention to detail was of utmost importance and I would not hesitate to use Forrest again in the future.  Great Work.
Formosa Tea Cafe said:
We love the 3D work that Forrest did for our business.  It's made with professional quality that allows potential customers to pay a pre-visit to our café online from wherever they are and get an accurate view of who we are.  Forrest is very professional and nice to work with.
Rates
Virtual Tours:
Virtual Tours are a tremendous way to better expose your enterprise. Statistics show, virtual tours boost SEO performance, generating more leads, in turn increasing foot traffic & web traffic.
Benefits Include:
Turn around time – 1 Week.
Affordability: Okanagan's best going rate.
Maintainability: No maintenance required.
The Process:
We come into your facility, preferably, after general operating hours to avoid interfering with pedestrians and loyal customers.
By taking photos of your business, inside and out, we are able to carve out a virtual blueprint using our bleeding edge 3D camera's.
Photographs take 4 min to process given on-board stitching. Photos taken every 5 steps indoors, 10 steps outdoors. 1 week turn around time.
The images are Uploaded, Organized, Geo-Mapped, and ultimately stitched together by our team of technicians.
Wallah, your virtual tour is live.  (No set up required, no maintenance required. One time, lump sum payment)
$150 for 1 floor.
Businesses w/ Additional Levels/Floors +$100.00 each extra floor.
Film:
   CORPORATE, DOCUMENTARY, WEDDINGS, SPORTING EVENTS, PARTIES & RECEPTIONS
On site filming: $30.00 P/Hour
Flat editing rate:$75.00
Photography:
  PORTRAITS, REAL ESTATE, CORPORATE, SPORTS & ENTERTAINMENT
Per Hi Resolution, Retouched (Edited) image
1-3 Retouched (Edited) Photographs – RAW Files Included: $100.00
4-10 Retouched (Edited) Photographs – RAW Files Included: $25.00 Each
11+Retouched (Edited) Photographs – RAW Files Included: $9.00 Each
Weddings:
 Video or Photograph
Kalmalka Package Includes:
$325.00
Full Day – Reception and Ceremony (8/Hours) – Negotiable.
-1 Camera Operator
-Retouched (Edited) Photographs
   -RAW Files Included
-Wedding Album, Optional. +$75.00
Okanagan Package Includes:
$450.00
-Full Day – Reception and Ceremony (8/Hours) – Negotiable.
-2 Camera Operators
-Retouched (Edited) Photographs
-RAW Files Included
-Wedding Album Optional, +$75.00
Please Contact Via Email: forrestmannproductions@gmail.ca